The Village of Delegate
The historic village of Delegate is nestled among some of the finest grazing land in the State and surrounded by areas of natural beauty and wonder like the Errinundra and Kosciusko National Parks and McKillops Bridge.
The Early Settlers Hut, believed to be the first European dwelling on the Monaro, is testament to Delegate's proud history, which like its neighbours Bombala and Cathcart, is rich in tales and folk lore. The Delegate School of Arts houses the proud history of involvement in the various wars and the cemetery has a plaque marking the site of the first Christian worship on the Monaro.
The Delegate River also affords the visitor the chance of a peaceful stroll along one of the tributaries of the mighty Snowy River.
Scenic Drive
Signposted in Hayden St, the drive takes in the historic village of Bendoc, once a busy gold mining town.
The Delegate River Tunnel diverted water from the orginal river to allow for gold fossicking. Drive into the beautiful forests of the South Eastern Plateau, where you can detour to the Errinundra Boardwalk in the most southern rainforest in mainland Australia.
Next stop is the small settlements of Bonang and the Delegate River before ending back up in Delegate.
McKillops Bridge spanning the mighty Snowy River is also a lovely scenic drive, and mustn't be missed if you're in the area.
Delegate Hill is also worth a look with a wonderful view of the surrounding country side.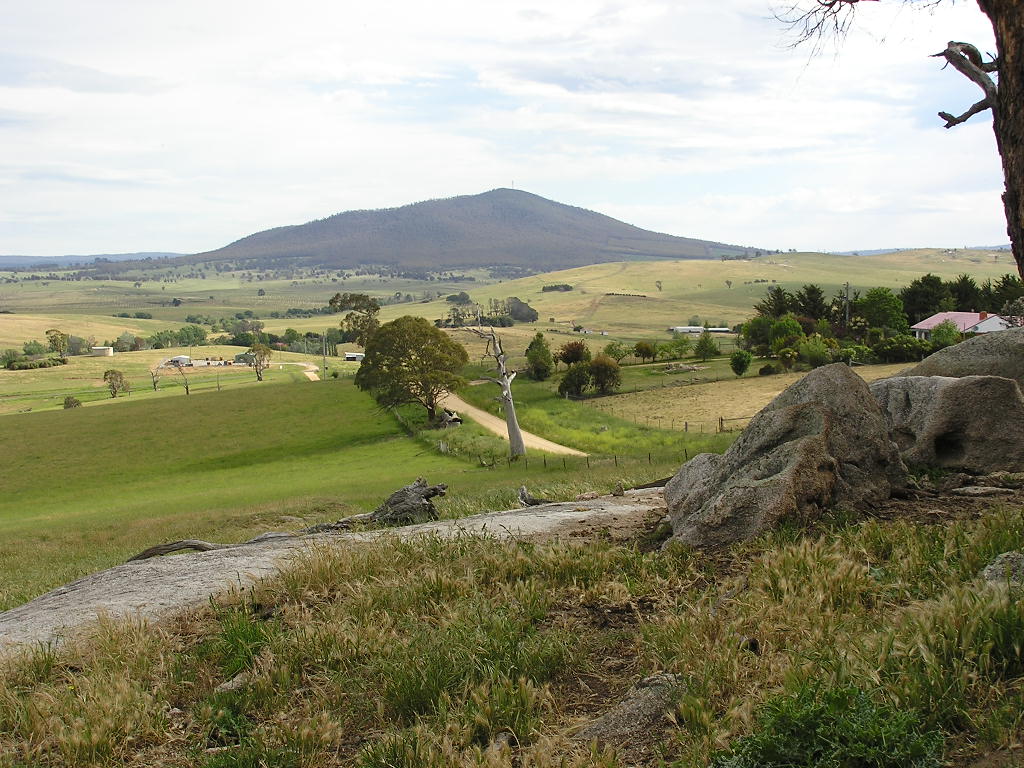 Delegate Hill
Bush Walking
There are a number of bushwalks in the surrounding National Parks, with features including the tall gums, lush ferns, cascading waterfalls, and panaramic views from Mt Kosciusko to the coast.
Four Wheel Driving
There are a lot of 4x4 tracks in the surrounding area, with spectacular views from Mt Tingiringi.

Fishing
Fishing in the Delegate River and other local streams provide for some of the best trout fishing in Australia. Delegate and Bendoc both have active fishing clubs.